The Goods

Browse the Collection.

Reliable Shipping

You order, we fulfill.

We Are the Shift

Product with purpose.
A POWERFUL VISION FOR THE CREATIVE COMMUNITY
Thriving Artist is a statement of identity. We are committed to activating this mantra every day, I Am A Thriving Artist. Our products are created to empower and amplify this message to artists themselves, their families, friends, clients, co-workers, patrons, and supporters. For those young artists who are becoming, for those established artists who have been on their journey, and for those hobbyists who love to create, we support you. We believe in you. Your work in this world should be satisfying and fuel for an abundant life.
READ MORE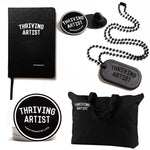 What Comes in Your Bundle?
Here's the Deal! You'll receive the essentials limited edition bundle that comes with the canvas carry-all bag, hardback notebook, rubber ID tag with ball chain necklace, enamel pin and a set of stickers.
View All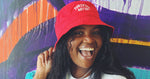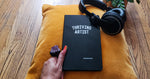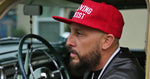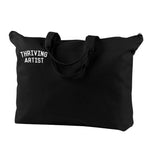 Canvas Carry-All Bag
Grab this multi-purpose bag and it'll quickly become your favorite duffle for everyday use. Thriving Artist has an embossed, slightly raised, silkscreen texture in the upper left-hand corner.
PRODUCT DETAILS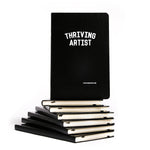 Hardback Notebook
Keep it as a journal of ideas, sketches, concepts, budget breakdowns, dream collaborations, to-do lists or project notes...whatever goes in it, is up to you. Most great ideas start by writing it all out, so let this notebook inspire you to envision, create and manifest!
PRODUCT DETAILS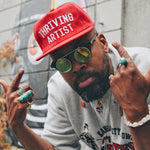 MAKE A STATEMENT, EVERYWHERE YOU GO!
Our products were created to inspire and change how artists are perceived.  We told "struggling artist" & "starving artist" to kick rocks…we're THRIVING now!  Let this be a daily reminder to you and everyone you come into contact with.
SHOP NOW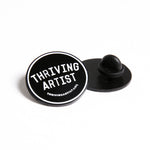 Enamel Pin with Metal Plating
Pin it to your jacket, shirt, bag or hat. Wear it by itself or with your family of favorite pins and accessories.
PRODUCT DETAILS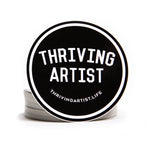 Glossy Circle Stickers
Take 'em, stick 'em or give 'em away! Get this set of 4 Thriving Artist stickers and place them in a prominent place like on your wall, car, laptop or forehead. Ok maybe that's taking it too far, but we think outside of the box here.
PRODUCT DETAILS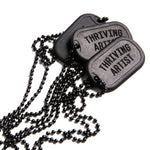 ID Tags with Ball Chain Necklace
Wear this as a reminder to self. This sleek black on black accessory makes for a great fashionable detail to your wardrobe, but most importantly keeps an empowering message near your heart's center. Buy two or three for a layered look.
PRODUCT DETAILS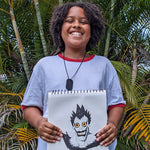 THE SELF-FULFILLING PROPHECY
Our brand believes that each individual who wears, uses or sees our products, will activate and elevate the Thriving Artist within…and this activation will affect their behavior and environment in an impactful way, motivating them to manifest the life they desire as a creative. 
SOMETHING FOR EVERYONE